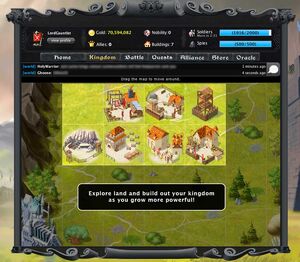 <center>

Welcome to the Kingdoms at War Wiki!
The Kingdoms at War Wiki is a site for new and old Kingdoms at War players! 
This is a guide, but it will not tell you how to:
1) Cheat/hack on Kingdoms at War.
2) Steal accounts from players.
3) Make the perfect build. Just the best, in our opinion.
Remember, this is a guide for fun only. This will just help you along your Kingdoms at War path with some helpful advice! Another way to get advice is to read the strategy section of the forums!
Kingdoms at War was created by A Thinking Ape Inc. and Tofu Labs. (Note: This guide is player made)
Note: This game is available on iPhone/iPod Touch, Android and on a web browser.
</center> 
Latest activity
Edit